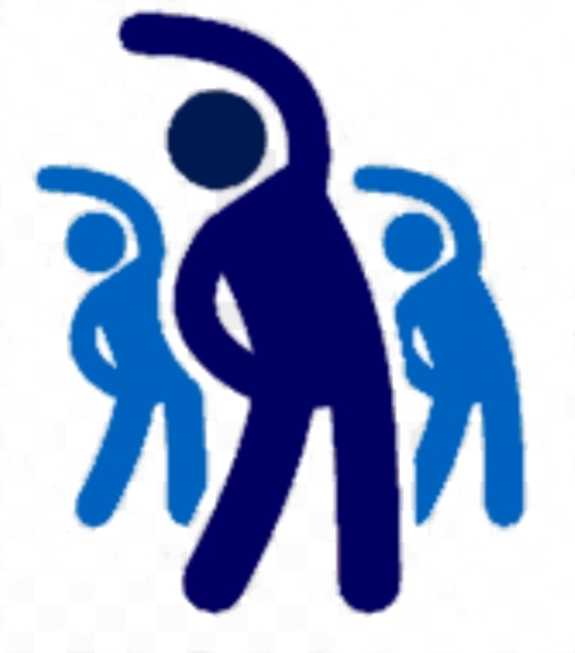 What is pulmonary rehabilitation (PR)?
Pulmonary rehab (PR) is a treatment programme made up of:
a physical exercise programme, designed for people with lung conditions and tailored for you
information on looking after your body and your lungs, and advice on managing your condition and your symptoms, including feeling short of breath
It's designed for people diagnosed with a lung condition who are breathless. Your PR team will be made up of trained health care professionals such as physiotherapists, nurses and occupational therapists.
We provide Pulmonary Rehab exercises sessions every Thursday mornings 10.00am – 11.30am for all of our members, who wish to take part. The sessions are great fun, taken at your own pace, guided by Niall Bradley Lead Health & Balance Instructor AgeUK Bolton. The sessions at the wonderful Wellbeing Hub at Bolton Hospice. 
Here is our video taken at one of our Thursday morningPulmonary Rehab sessions 
Anyone who wants to take part, or wish to know more about the sessions please contact Steve on 01204 397804
For many patients diagnosed with chronic lung conditions such as Pulmonary Fibrosis, attending a pulmonary rehabilitation (PR) program can be a lifesaver—literally and figuratively. Pulmonary rehab can help people manage their symptoms, complications, oxygen and medications, reduce hospitalizations and, most importantly, breathe better and improve quality of life.   
Linda Sawchuk, a respiratory therapist and Better Breathers Club Facilitator at Beaumont Pulmonary Rehabilitation Center in Michigan, says pulmonary rehab can help get people back as close as possible to their life prior to the onset of their illness. In addition to education, supervision, tips and advice, participants experience a sense of community that is equally as important.
"It's a great place to get people physically rehabilitated, and also to [connect with] people with similar problems. There's a real community in rehab," she says.
Pulmonary rehab programs vary in format and length. Most programs use a small group format and include:
Education about your condition, symptoms, medications and oxygen
Supervised exercise classes and instruction
Breathing techniques
Nutritional counseling
Emotional health support
Judy Kanasty, 72, was diagnosed with COPD in March 2015. Although she frequently contracted pneumonia, and was often short of breath, she was surprised by her diagnosis.
"I didn't know I had breathing issues until I learned how to breathe correctly," Kanasty said. "The pulmonary rehab program helped me immensely. I feel all around better."
Education
In pulmonary rehab, patients learn everything they need to know about their specific chronic lung disease. Sawchuk says her clients go over anatomy, physiology, breathing techniques and medication management—which includes things like the best time of day to take medications.
Exercise
Because of breathing challenges, people with chronic lung disease tend to avoid exercise. However, the right amount and type of exercise has many benefits. It can improve your heart and muscle strength, increase energy levels and help you use oxygen more efficiently.
In pulmonary rehab, patients are monitored and taught to exercise safely by paying attention to their breathing and oxygen levels, as well as learning modifications such as using a chair for weight lifting and yoga.
Kanasty said she hadn't exercised since 2006 but after pulmonary rehab is now taking classes three times a week. "Walking was not my friend, but they showed me how to exercise and now I do the treadmill for 20 minutes every time I visit the center. I also do chair aerobics, weights and yoga."
Breathing and Oxygen
All pulmonary rehab patients are taught pursed lipped breathing and diaphragmatic breathing exercises, and other breathing strategies, to help increase oxygen levels and better manage symptoms—and fears. "When you can't breathe, it's a scary thing," says Sawchuk. "We teach them to check their oxygen level [with a pulse oximeter] and take preventative measures to increase their oxygen level before it gets too low."
In a pulmonary rehab program, people can learn how to keep breathing issues in check and avoid supplementary oxygen. Others learn how and when to use their oxygen correctly to maximize quality of life. "By learning about their bodies and the problems low oxygen causes, they learn that they do need it and how it can help them exercise and feel better," says Sawchuk.
Nutritional Counseling
Achieving and maintaining a healthy weight is an important part of an overall healthy lifestyle, and it's no different for people with chronic lung disease. Excessive body weight can increase shortness of breath, and low body weight can decrease your ability to fight infections. Plus, when short of breath it can be hard to eat. Clients learn to prepare nutritious food without getting stressed or too tired.
Emotional Health Support
Because many people with chronic lung disease, or any chronic illness, often experience depression, anxiety and other emotional problems, many pulmonary rehab programs offer counseling services, or partner with an organization that offers them.
Maintenance
The information acquired during pulmonary rehab needs to be used throughout life in order to avoid hospitalizations, complications and other issues. Plus, importantly, people who use those tools feel better. Many programs offer a maintenance option that allows clients to return for exercise classes and support groups after the program is over.