Bolton Pulmonary Fibrosis Support Group has become a Platinum Patron of Bolton Hospice
Today we received our certificate to acknowledge that Bolton Pulmonary Fibrosis Support Group has become a Platinum Member of the Bolton Hospice Patron Scheme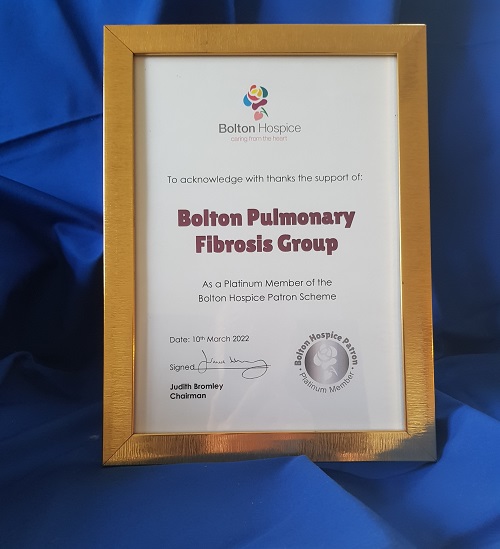 Bolton Pulmonary Fibrosis was invited to hold their Pulmonary Rehabilitation Session at the Bolton Hospice by Dr Aurelia (Ellie) McCann Medical Director/Consultant Physician – with specialist interest.
Pulmonary rehabilitation, also known as respiratory rehabilitation, is an important part of the management and health maintenance of people with chronic respiratory disease who remain symptomatic or continue to have decreased function despite standard medical treatment. It is a broad therapeutic concept. It is defined by the American Thoracic Society and the European Respiratory Society as an evidence-based, multidisciplinary, and comprehensive intervention for patients with chronic respiratory diseases who are symptomatic and often have decreased daily life activities. In general, pulmonary rehabilitation refers to a series of services that are administered to patients of respiratory disease and their families, typically to attempt to improve the quality of life for the patient. Pulmonary rehabilitation may be carried out in a variety of settings, depending on the patient's needs, and may or may not include pharmacologic intervention.
The Wellbeing Hub at the Hospice has provides us with a COVID Safe environment where members, who are classed as "Clinically Severely Vulnerable", have felt safe. Not only that, it is such a beautiful and wonderful environment to be. All of the staff are so warm and welcoming and provide a first class service to everyone who visits.
We are so proud to be able to support our Local Hospice in this way, as they have given so much in many ways to the Pulmonary Rehab Group and Bolton Pulmonary Fibrosis Support Group.
We are also indebted to AgeUK Bolton for their support in providing our Pulmonary Rehab instructor Niall Bradley Who is the Health and Balance Manager. Niall is a fully qualified and certified Pulmonary Rehab instructor.